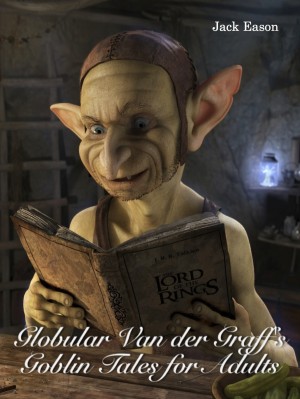 Globular Van der Graff's Goblin Tales for Adults : Jack Eason
A very long time ago, there once was a land called Goblindom hidden behind a magic barrier to protect its inhabitants from mankind. Man's ancestors the humins lived there quietly alongside wyverns, griffins, trolls, witches and wizards as well as woods, mountain and plains goblins, ravens, eagles and many more creatures.
This anthology is a collection of thirty tales, which I have translated from goblin into English thanks to Globular Van der Graff, a friendly southern woods goblin who told them to me not long ago. They are not my tales, they are his, hence the title – Globular Van der Graff's Goblin Tales for Adults.
For a long time, like most human children I disbelieved the stories read to me by my parents of goblins, witches and wizards, wyverns and griffins, believing them to be nothing more than tales designed to entertain, until that first fateful early morning visit several months ago, when Glob physically sought me out and deliberately entered my life.
I hope and pray that like me, you will all open your hearts and minds to the fact that goblins, especially of the noble and friendly southern woods kind, do still actually exist today. Through necessity for their own protection, they have to hide from the modern world you and I live in. If you are fortunate as I undoubtedly am, some may even be living in an oak wood near you.
Lastly, may I just say on behalf of Glob whose anthology this is, not forgetting for one moment his good friend Bejuss, and his goblin brothers, Make, Mous, Neo, Byz, and myself, how much we thank you for taking the time to read this, the first-ever written record of the once magical land of Goblindom.
Turning Point, The Forgotten Age, The Next Age, The Guardian, Céleste, Race Against Time, Autumn 1066, The Magisters and The Forgotten People by Jack Eason are also on Whizbuzz Books.
Book Links
Website
Facebook
Twitter
Amazon Author Page
On Amazon UK
On Amazon
More Great Reads: