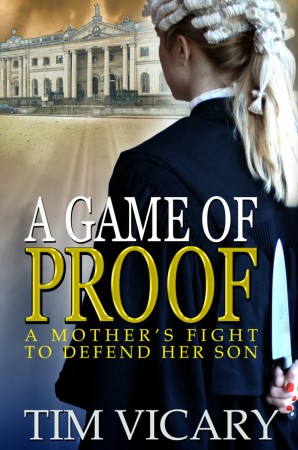 A Game of Proof : Tim Vicary
A Game of Proof: A Mother's Fight To Defend Her Son
Sarah Newby became pregnant in the back of a Ford Cortina at the age of 15. She left school to bring up her son as a single parent on one of the worst council estates in Leeds. From this disastrous beginning she has worked her way up, by sheer strength of character, to begin a career as a criminal barrister.
But just as her career is  beginning to take off, her own son, Simon, is arrested and charged with a series of brutal rapes and murders. The evidence against him is so strong that his QC advises a guilty plea, but Simon swears he is innocent and begs his mother to take on his defence. There is no law against a mother representing her own son, so Sarah agrees. The only other obvious suspect in the murders, however, is a man who has already been acquitted once – with Sarah acting as his defence lawyer …
Has Sarah, in her single-minded determination to create a career for herself, neglected her son so much that she no longer knows him? He has often lied to her in the past, so why should she believe him this time? And what should she do when she herself uncovers evidence that seems to suggest his guilt? What is most important to Sarah – the truth, her hard-won career, or her love for her son?
Book Links
Website
Blog
Facebook
Amazon Author Page
On Amazon UK
On Amazon
More Great Reads: