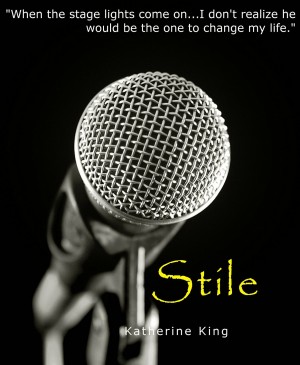 Stile (Volume 1) : Katherine King

I don't realize when the stage lights come on I am looking at the person who would completely change my well-planned out life. Tall, lanky with a wild mess of shoulder-length brown hair. My eyes are immediately drawn to him as he walks on stage…for his bandmates, I spare not even a glance.
With his tight black jeans, black t-shirt, a multitude of tattoos on both of his sculpted arms and a cheeky grin across his face, his bad-boy persona is complete. Not what I usually look for or find attractive…but on him…he is pure sex and he has my full attention.
The band starts playing and this sex god starts the first song as he confidently swaggers down the small set of stairs…my eyes following…taking in how snug his jeans are as he moves closer to where I am standing in the second row. Finishing his part of the song for now he looks out over the audience and grins. He is stunningly beautiful.
Book Links
Amazon Author Page
On Amazon
More Great Reads: