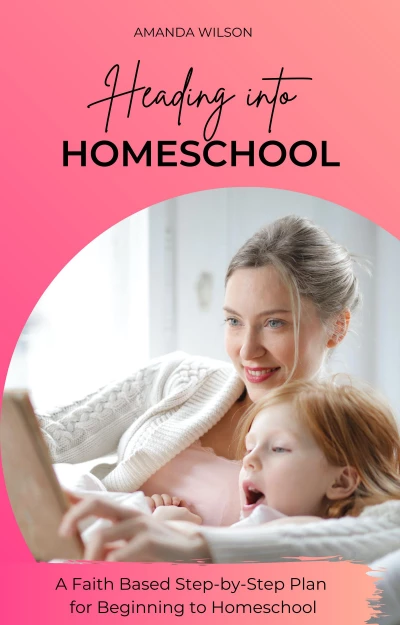 Heading into Homeschool : Amanda Wilson
Thinking about homeschooling? If you're ready to jump into homeschooling for the first time, this book by an experienced homeschooling mom of four will provide you with ALL THE KNOW-HOW YOU NEED to get started confidently and stress-free.  This easy read will walk you step-by-step through your homeschool preparation.
Everything You Need
Everything you need to know about homeschooling grades K-12 is covered with over 70 hyperlinks to online resources. The chapters are jam-packed with info in an easy-to-read format with actionable bite-sized pieces making it doable to read and apply what you're learning.
You'll walk away with so many questions answered:
– Is homeschooling right for our family?
-How to choose homeschool subjects
-How and where to find homeschool curricula
– How to plan out your school year
– What's your homeschool style?
– What's my child's learning style?
– How to set up a sustainable homeschool routine
– Homeschool organization
– Behavior management
-Homeschooling in the community
– How to make homeschooling affordable
– How to teach to the heart and lead your kids to God
Plus, you get the FREE BONUS companion download, Heading into Homeschool Workbook, with the charts, worksheets, and homeschooling forms you'll need to  prepare to homeschool.
Every family deserves a way to do life together that brings joy, fulfillment, and peace.   Every child deserves to love learning and to blossom academically.  Homeschooling can give your family a way to do both.
This is just what you need to get started homeschooling today!
Book Links
On Amazon
Author Amazon Page
Facebook
More Great Reads: