The Trouble with Her Duke : Anna St. Claire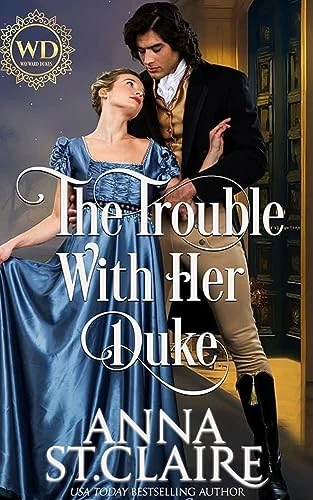 A wife is the last thing he needs. A husband is the last thing she wants.
A widower who refuses to remarry.
Damon Devereaux, the Sixth Duke of Danforth, doesn't want a wife. He needs a governess; they keep quitting. Damon's energetic, seven-year-old twins need someone with stamina—a woman who can provide a firm hand, stability, and guidance. And someone who doesn't run screaming from the room when she finds a toad under her pillow.
A spinster who refuses to marry.
Miss Lydia Hammond grew up without a mother and equates marriage with the risks of childbirth but also the potential loss of her hard-earned independence. Content to remain unwed and mistress of her own life, Lydia resists the dogged determination of her three older brothers to marry her off to a competitor's son and thus expand the family's business interests. Evading the altar, Lydia accepts a position as governess to the Duke of Bedford's children. But as she grows to care for the twins and their father, Lydia begins to wonder what she's missing.
As an unlikely friendship blossoms between Lydia and Damon, his former mistress contrives to destroy their happiness. Can Lydia and Damon overcome the past to have a future?
Book Links
Amazon US
On Amazon – UK
On Amazon – CA
On Amazon – AU
On Amazon – FR
On Amazon – ES
On Amazon – IT
On Amazon – NL
On Amazon – JP
On Amazon – BR
On Amazon – MX
On Amazon – IN
More Great Reads: