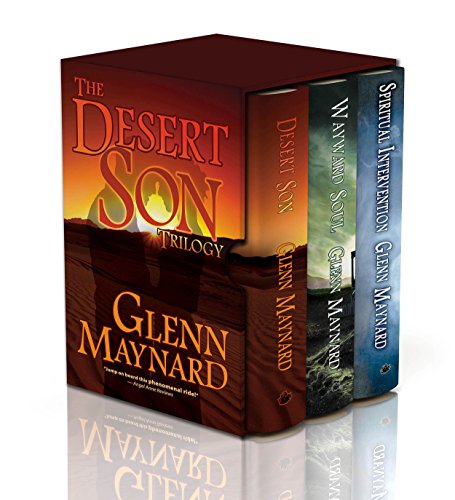 The Desert Son Trilogy : Glenn Maynard
The Desert Son Trilogy
All three books of the Desert Son Trilogy are now available for one low price! Includes Desert Son, Wayward Soul, Spiritual Intervention (Books 1-3).
Desert Son
Carter Spence is a 26 year-old accountant out of Boston who has an out-of-body experience following a car accident that kills his parents. He views the chaos from above the scene of the accident, then passes through the tunnel and reunites with relatives who have long been dead. A woman he does not recognize approaches him and says, "Welcome, son." Her message to him is that he needs to be aware of his true identity and should follow signs that will lead him there. She mentions mountains, but Carter is jolted back into his physical body before she can finish. After burying his parents, Carter heads west and meets a free-spirit named Brenda, whom he is drawn to on many levels. She becomes his travelling companion and leads him to Boulder, Colorado, and to an old white house of an old man named Martin. Diaries, hypnosis, and past-life regression reveal a bizarre connection between these three. Carter discovers that the truth to his identity can only be found by pursuing the answer to whether he is the reincarnation of his biological father in what is shaping up to be a love affair rekindled beyond the grave.
Wayward Soul
While visiting a psychic, Carter Spence and Brenda Raycroft's reading turns tragic. The psychic touches them, suffers convulsions, and frantically runs into the street into oncoming traffic. Their fate is sealed in a coma and they must use any means possible to reach the psychic in the spirit world as they dodge deadly complications in an attempt for answers.They pursue the psychic's message before she can die and take the answers they need with her. When the spirit of the previous homeowner returns, this haunting soul begins tampering with the comatose psychic. The sequel to Desert Son takes place four years after Carter and Brenda discover they are a couple reunited beyond the grave. The spirit world becomes intertwined with their own as they attempt to tap into these secrets to uncover disturbing truths about their fate in this paranormal roller coaster that will shake your soul.
Spiritual Intervention
They tried to get away, but menacing spirit has gotten hold of their son. Carter and Brenda thought it was a clean break and a new start. They escaped their old life in Boulder and returned to Boston. Signs emerged that this mission failed when their son, Adam, began to speak. When seven-year-old Adam is kidnapped in the middle of the night, there is no denying the spirit of Martin has returned. This story culminates in a showdown that has only one possibility of finding peace in their lives. They must find a way to move Martin into the afterlife. However, there's one problem. Martin has no intention of going.
Book Links
Website
Facebook
Twitter
YouTube
Amazon Author Page
On Amazon
More Great Reads: