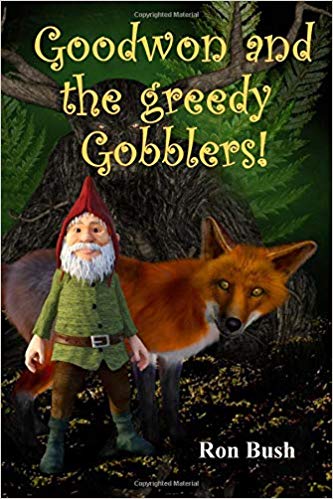 Goodwon and the Greedy Gobblers! : Ron Bush
Goodwon and the Greedy Gobblers!
This is the first in a series of exciting adventures, suitable for children age 5-12.
Goodwon the Elder, leader of the Pixies, is in trouble. The garden the Pixies protect is under attack from their enemies, the Gobblers. These evil beings have created Super-Slugs and Super-Snails. Using these hideous gastropods, they intend to gain control of the salt mine beneath the lawn. If their plan succeeds, they will force the Pixies to work in the mine.
Goodwon's only hope is to rally the garden creatures and defeat this invasion. A friendly fox and a giant spider join forces with the Pixies, but is this enough to achieve victory?
The family who own the house are unaware it hides many secrets, including these magical beings who live in their garden.
Bringing together humans with pixies and fairies these entertaining stories encourage an interest in conversation, re-cycling and solving problems by working as a team.
It also addresses concerns of today's children: adoption, differing from others, aggression, worry and fears.
Book Links
Website
Amazon Author Page
On Amazon UK
On Amazon
More Great Reads: