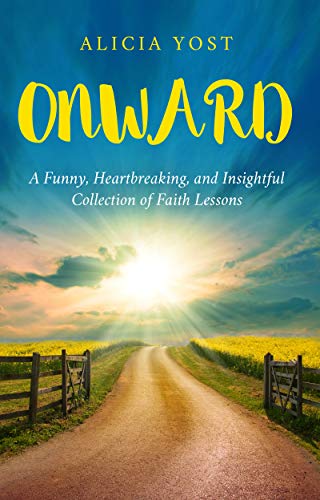 Onward: A Funny, Heartbreaking, and Insightful Collection of Faith Lessons
Have you ever felt alone in your faith? Have you ever struggled with forgiveness, fear, grief or patience? Onward is a rallying cry for people who know or want to know Jesus.
A walk of faith is a long, hard journey but the good news is that we aren't alone in our struggles! In the twelve relatable, funny and sometimes painful stories in this book, the author shares how God has moved in her life, teaching her valuable lessons that have transformed the way she lives and ushered in a renewed sense of peace and joy.
You will see your own faith journey reflected back at you and be reminded that though you may not always see it, God is working in your life as well. Onward will encourage and challenge you on your journey. You will laugh. You will cry. Maybe you'll even get a little pep in your step as you continue onward in your faith.
Book Links
Website
Facebook
Twitter
Instagram
Linkedin
Amazon Author Page
On Amazon
More Great Reads: