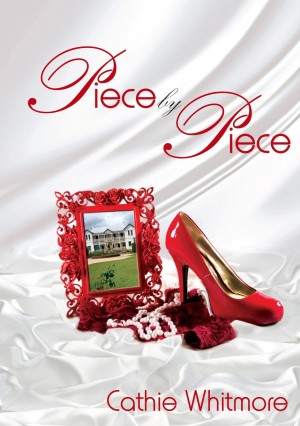 Piece by Piece : Cathie Whitmore
Piece by Piece
Eleanor's rags to riches story, begins the day she meets Robert Harding, in April 1948. Robert's good looks do play a minor part in Eleanor's attraction to him, but the silver spoon protruding from his mouth, most definitely clinches the deal.
From the moment Eleanor meets Robert's mother Rose, beaming at her from the front steps of their six bedroom four bathroom mansion, bequeathed to her by her late husband Samuel, Robert's father, she senses Rose is the type of woman, who will take her under her wing and nurture her. A kind and sincere woman, yet emotionally vulnerable, like her son, eager to lick Eleanor's wounds and make it all better.
Eleanor's world collapses when Robert is killed in a car accident, leaving her with four year old twin boys, a two year old girl and nothing more than a less than adequate insurance policy. Robert's death, throws Rose into the depths of depression, leaving Eleanor to support her mother-in-law emotionally, ensuring Rose will continue to support her financially.
Like mother, like daughter…the master and the apprentice of manipulation, Celeste Harding, begins her story as a fifteen year old in 1967, mourning the loss of her beloved Grandma Rose. Eleanor, convinced she is about to inherit the family home, known as Harding House, is confident Rose being out of the picture will ultimately bring her daughter Celeste, closer. However, nothing could be further from the truth.
More Great Reads: