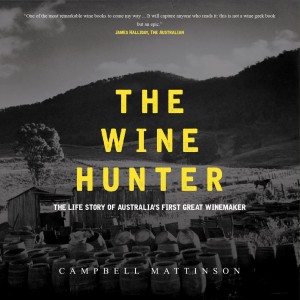 The Wine Hunter : Campbell Mattinson
The Wine Hunter
Australia's first great winemaker was a Frenchman. As a 24 year old, in 1921, he walked onto a hillside vineyard in the Hunter Valley north-west of Sydney and in a hard, hot climate set about growing and crafting wines that, when finally opened as fifty- and sixty-year-olds, became renowned as Australia's first great wines.
He made these wines without electricity, with bare bones equipment – his winery, Mount Pleasant never once turned a profit during his 30 year struggle – and with a broken heart. What he achieved out there on that hillside is one of the miracles of wine. This is Maurice O'Shea's remarkable story.
REVIEWS
James Halliday, The Weekend Australian: "One of the most remarkable wine books to come my way … It will capture anyone who reads it: this is not a wine geek book but an epic."
Lisa Perrotti-Brown MW, The Wine Advocate: "Loved The Wine Hunter. A must-read for lovers of Aussie wine."
Max Allen, The Australian Magazine: "This is the best book on wine to be published in Australia for many, many years".
Jancis Robinson, jancisrobinson.com: "Campbell Mattinson is arguably Australia's most literate, and certainly most literary, wine writer. I … admire his monograph on the Hunter Valley pioneer Maurice O'Shea immensely."
Jeni Port, The Melbourne Age: "Wine Hunter is a breakthrough wine book: an astonishing, cerebral, emotional entanglement of fact and dramatisation, of tender detail and beautiful, expressive words. Has there ever been a wine book written quite this way?"
Paddy Kendlar, Herald-Sun: "I started reading a wine book last weekend and finished it on the Sunday night. Literally couldn't put it down, except to take a break when the story became somewhat sad … It's a wonderful story with a perception and sensitivity almost matching that of the subject. The few O'Shea wines that I have tasted – made under the McWilliams Mount Pleasant label – were more than forty years old at the time. They were magnificent. Campbell Mattinson has captured the essence of a great Australian artist. I heartily commend this remarkable book."
Gary Walsh, Winorama: "I started reading it this morning and finally put the book down late in the afternoon. Finished. It's really quite brilliant. A captivating, compelling and very moving read written in the unique Mattinson style. A beautiful story first, and a wine book second. I think it has universal appeal."
Grant Dodd: "This is a genuine call to those of you that love wine and/or love great writing to go out and buy "The Wine Hunter", by Campbell Mattinson, one of the most inspired pieces of writing in any genre by an Austalian writer for some time. A biopic of sorts on the life of the great but under-appreciated Hunter Valley winemaker Maurice O'Shea, "The Wine Hunter" is a beautifully written, emotive story that somehow infiltrates the ghost of O'Shea and brings his undeniable genius to life. It is a great read, and it deserves to be read."
More Great Reads: