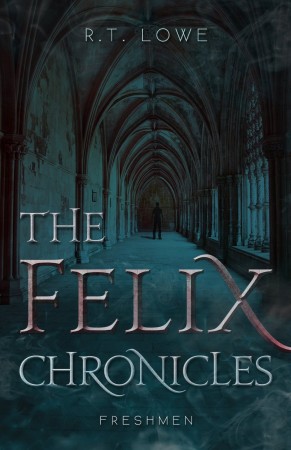 The Felix Chronicles : Freshmen : R.T. Lowe
The Felix Chronicles: Freshmen
Reeling from a terrible accident that claimed the lives of his parents, Felix arrives at Portland College hoping only to survive the experience.
In time, however, his reality star roommate shows him there is more to higher education than just classes, shared bathrooms and bad dorm food, and Felix gradually dares to believe he can put his past behind him.
But a fateful storm looms on the horizon: In the nearby woods, two hikers become the latest victims in a series of gruesome murders; a disfigured giant embarks on a vicious cross-country rampage, killing teenagers who fail his 'test'; and an ancient society of assassins tasked with eradicating the wielders of a mysterious source of power awakens after a long silence.
Only one man—the school's groundskeeper—knows that the seemingly unrelated events are connected, and that an eighteen-year-old boy stands in the center of the storm.
Book Links
Goodreads
Amazon Author Page
On Amazon
More Great Reads: