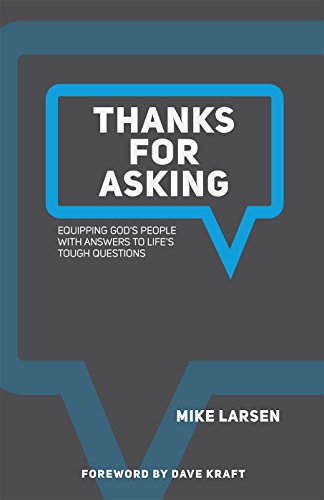 Thanks for Asking : Mike Larsen
Thanks for Asking: Equipping God's people with answers to life's tough questions
Why does God allow suffering? Why am I here? Why do I exist?
Over my years as a pastor, I've heard some tough questions asked about the Bible and about God. These were hard questions my church congregation had, and these were also difficult questions my congregation heard from people they encountered.
They needed answers.
To help equip our church to be on mission, our pastoral team solicited questions from our church family about faith, people, and life. 1 Peter 3:15 became our guide post for the series: "In your hearts revere Christ as Lord. Always be prepared to give an answer to everyone who asks you to give the reason for the hope that you have. But do this with gentleness and respect."
This series would prove to be inspired by God. We asked, and many questions came in. Why do bad things happen? What does the Bible say about homosexuality? Our church had so many questions for God, and we knew that others did, too.
If you have questions, but are struggling to find the right answers, "Thanks for Asking" is the perfect place to start. This practical, approachable resource will help guide you to find solid, biblical answers to your questions.
Book Links
Facebook
Twitter
On Amazon
More Great Reads: