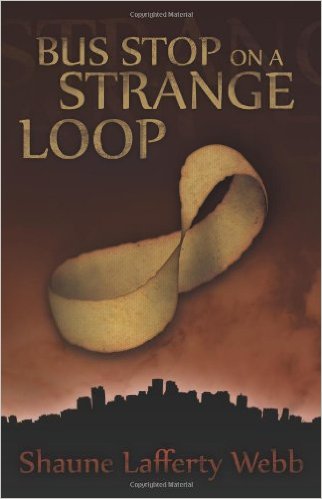 Bus Stop on a Strange Loop : Shaune Lafferty Webb
Bus Stop on a Strange Loop
If you knew the ultimate fate of those around you, would you try to change it … would you accept it … would you warn them? Would you want to know?
When brothers Nicky and Ethan escape the degraded, dangerous world of the future, they are seeking only sanctuary and peace. All they want is to leave their past behind them, but Ethan's unique talent, the instrument of their escape, means the past can never be forgotten – Nicky and Ethan have been followed…
School teacher Olivia lives a lonely but safe life in the home of her late foster-parents, a home she is about to lose. After an unsettling encounter with her new neighbours and a series of puzzling break-ins, Olivia is inadvertently drawn into the brothers' lives, and her own past is brought into sharp relief by her discovery of a cache of her foster mother's diaries, which raise question about her birth parents. The deeper she delves into the diaries, the closer she draws to unravelling an old mystery that will taint her relationship with Nicky and Ethan and challenge her perception of reality.
As Olivia and the brothers are about to discover, sometimes paths intersect more than once.
Book Links
Website
Facebook
Amazon Author Page
On Amazon
More Great Reads: