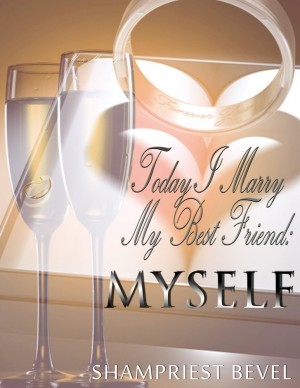 Today I Marry My Best Friend: Myself : Shampriest Bevel
Today I Marry My Best Friend: Myself
The women's fiction book tells the untold story of single women living in a world with limited good men and unlimited drama.
The characters deal with all types of men. They are all in relationships with the type of men who prove not to be ready for marriage. Talia Sands, who is the most ready for marriage, is left broken-hearted after five years by a man who she accidentally learns is having an affair with the neighborhood trick.
This becomes a turning point for Talia. Talia decides not to allow a nugatory man destroy her dreams of marriage. She has an epiphany about the root of marriage, love. She decides to marry herself as a symbol of self-commitment and self-love. Today I Marry My Best Friend, Myself tells the story of how a woman can stop tirelessly and painfully waiting for a man to ask for her hand in marriage. She can follow Talia's lead by getting her middle finger sized, purchasing her own wedding ring, and marrying herself.
Book Links
Website
Amazon Author Page
On Amazon
More Great Reads: