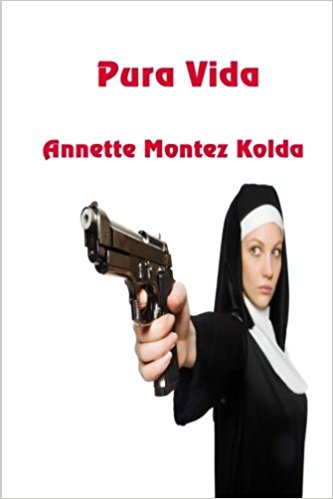 Pura Vida : Annette Montez Kolda
Pura Vida
Move over, Miss Marple.
 Feisty, crime-fighting nun Sister Bridget is on the case…and East Austin's Latino community may never be the same.
"…a fun, suspenseful ride through Austin…"
Life for the Lopez family has always been complicated, but the intensity ratchets up when fifteen-year-old Michael Lopez stumbles into the middle of a terrorist plot and teams up with Sister Bridget in a desperate race to stop it.
"…captures the soul, delighting readers with its stirring ambience and endearing characters…"
Excerpt from Chapter One:
He called himself Javier.
He stole one bomb component from each small shop. The process took longer, but it kept him off the government's radar. Small, disparate thefts didn't raise red flags. He doubted the shop owners even missed the stolen items.
It was four o'clock on a chilly November morning. Javier clicked off his headlights and the Escalade's bright, colorful dials and gauges went dark. The black SUV hulked along the block of small, patched-up houses of East Austin. Only the occasional porch light illuminated his way.
He didn't own a computer, nor did he use a cell phone. He knew better than to create an Internet footprint. Javier didn't buy bomb components with cash either, for once the explosive did its job; forensics would trace its parts, leading police to a description of the buyer. Him. He took no chances. Prison wasn't an option.
He was thirty-two years old, six feet tall, lean and clean-shaven. He melded into the night with his black clothing, boots, and gloves. His black neoprene ski hat doubled as a facemask should he need it. The hat also hid Javier's loss of hair, a relentless reminder that time never compromised. His task took many years of preparation and would be his crowning achievement, but the slipping away of his youth angered him nonetheless.
The abandoned house at the end of the street bore a condemned sign on its dilapidated door. The SUV's hefty tires crackled on its gravel driveway as Javier pulled under the home's rusty, sagging carport.
He carefully opened his car door, then froze as a furious dog barked across the street, setting off a loud, chaotic chain reaction.
When quiet returned, he moved on.
In just over two minutes, Javier reached the darkened Montez Hardware on MLK Boulevard. He'd cased the store in advance. It was a small, family run operation: no alarms, no cameras.
He inserted his filed-down bump key almost completely into the door's keyway, nudging it the rest of the way while rotating at the same time. The lock held. The store's owner had installed a dual sidebar locking system. He'd have to use his tools; two slim, metal picks.
In Javier's mind, blinding, deafening explosions played on a constant loop. The blasts that tore his homeland apart resided permanently in his subconscious. And the disappearance of his father and uncles burned a hole in his brain that he filled with hatred.
Now, it was the United States' turn to be ripped to pieces. Now was the time to ignite the Americans' smoldering anger and fear. Time to turn their bigotry against them. After twelve years, he'd finally drawn close to his objective: Americans would bite and devour one another until their home became a country of ghosts who wandered amid wreckage and festering ruins.
Book Links
Website
Facebook
Twitter
On Amazon DE
On Amazon 
More Great Reads: