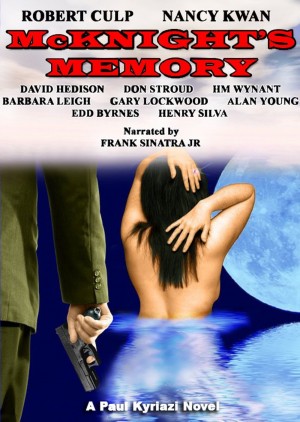 McKnight's Memory : Paul Kyriazi
CIA Chief James McKnight has three problems – Amnesia, the Mafia and his addiction to the Ultimate Woman
CIA Chief, James McKnight wakes up in a small Colombian Village in the middle of a drug raid with no memory. Returning to Washington D.C. Things get worse as he finds out the Mafia has a contract out on his life.
His only solace in this deadly situation is Carla, the woman he is living with, but can't remember. She is the most beautiful and erotic woman that McKnight could imagine. With his life in danger, can he trust her?
The jungles of Colombia, the monuments of Washington D.C., the gambling tables of Atlantic City all have dangers awaiting him. Can he solve the puzzle? Can he survive his attackers to win the voluptuous Carla? Or will she be his Doom?
$2.99 Kindle includes a free audio download narrated by Frank Sinatra Jr. Performed by Robert Culp, Nancy Kwan, David Hedison, Henry Silva, Edd Byrnes, Don Stroud, Alan Young, Barbara Leigh & Gary Lockwood.
Book Links
Twitter
Amazon Author Page
On Amazon
More Great Reads: