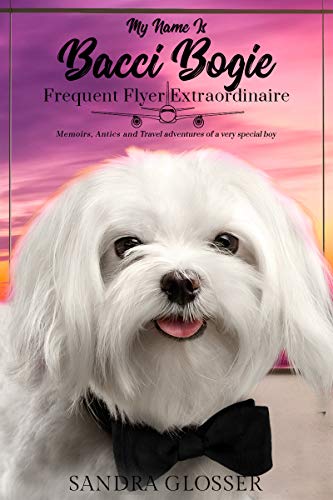 My Name is Bacci Bogie: Frequent Flyer Extraordinaire : Sandra Glosser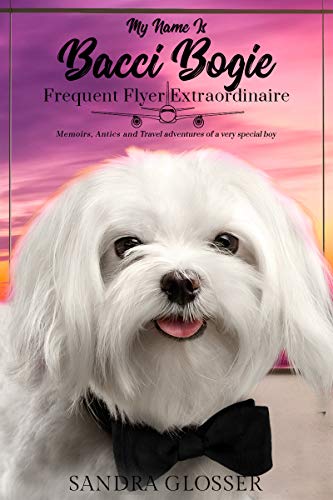 His human-like antics drew people to him where ever he went. People stood in line for his autograph as he performed funny tricks.
Bacci traveled over 500,000 air miles as my 'jet pet' experiencing life in a very unique way. His hometown was Aspen, Colorado where he co-hosted my local television show for many years. It was not unusual when we walked through town, for people to say hello to him by name. Where ever he went, he was a magnet for people to gather asking unending questions about his life.
I wrote Bacci's memoirs from his point of view and in his voice. He was inspirational by nature and approached life with possibility thinking. Bacci was a multi-dimensional dog as he interacted with police officers across the country. His desire to give back to society, by becoming involved in community service with high-risk teens and senior citizens, was admirable.
The book is inspirational and filled with humor. Most of all, the story is an entertaining testament to the multi-faceted richness that pets can bring to human life.
The following is one of the reviews that is posted on Amazon: 5.0 out of 5 stars…
"A must-read for all of those who have loved and lost their best friend. Bacci Bogie truly captures life from his unique viewpoint. So many of Bacci's adventures reminded me of the fun, the awkward, the frustrating and the even scary moments I have experienced with my own dogs. It was a really fun read."
Book Links
Facebook
Twitter
Instagram
Amazon Author Page
On Amazon
More Great Reads: