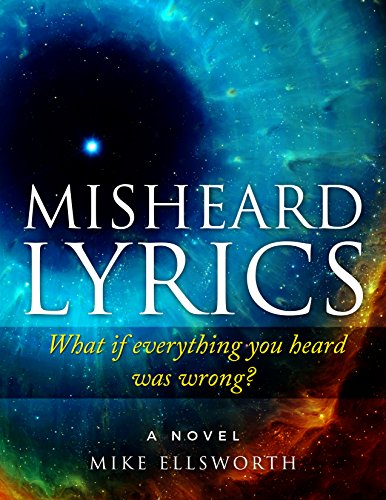 Misheard Lyrics : Mike Ellsworth
Misheard Lyrics: What if everything you heard was wrong?
Misheard Lyrics is an irreverent and often hilarious novel about misheard lyrics, religion, messiahs, friendship, and the nature of the universe.
The two main characters are Charles and Chip. Charles is a writer who is attempting to write his first novel who was raised Catholic but rejected the church by age 12. Chip is a Methodist minister with a profane and rebellious streak that almost prevented him from graduating from divinity school. Both are looking for answers.
The novel combines magic, dream and reality, and important dualities include humanity and divinity, good and evil, dream and reality, and love and power.
Each chapter title involves a misheard song lyric and many are discussed in context throughout the novel. The book alternates Charles' attempts at starting his book with the pair's discussions about the book and religion in general as well as biographical flashbacks from Charles' life that feature other characters. Edie was Charles' girlfriend back in 1975. PSTD from her tour in Viet Nam as a photographer for Look magazine complicated their relationship. Karen was Charles' wife until her lesbian romance with Munch caused their divorce and Charles' subsequent hatred of gays. Steve was Charles' piano virtuoso friend reduced to bankruptcy and working odd jobs. Poet Allen Ginsberg also appears as Charles' mentor.
As Charles searches for answers, he leads us through various religions and possible Apocalypses. And as he completes each chapter, he gets together with Chip, with whom, after much obscene byplay, he discusses some of the theological issues. Along the way, Charles starts suspecting that he may exist only for the entertainment of the Viewerverse, a pan-dimensional audience watching a cosmic reality show, of which he is the star, and which finds his misfortunes hilarious.
It's kind of like Even Cowgirls Get the Blues meets My Dinner with Andre, but with swearing.
Book Links
Website 1
Website 2
Facebook
Twitter
Amazon Author Page
On Amazon
More Great Reads: