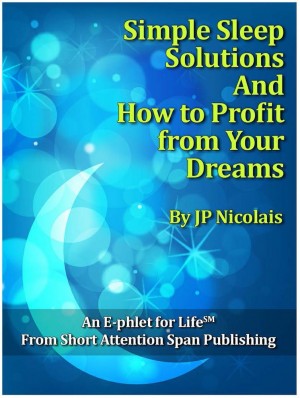 Simple Sleep Solutions and How to Profit from Your Dreams : JP Nicolais
Simple Sleep Solutions and How to Profit from Your Dreams
Simple Sleep Solutions, An E-book by JP Nicolais, (2nd edition, published by Xlibris, July 2014)
Improve your sleep naturally
Profit from your dreams
This image-rich guide to better sleep provides the author's proven solution with a 90% success rate. Available on Amazon.com, Amazon and iTunes, iTunes, this book is accessible on all Kindle devices as well as Android and Apple devices. A Spanish language eBook has been published on Amazon.com and iTunes, under the title of Soluciones Simples a los Trastornos del Sueño.
You can learn how the author developed his approach and adapt it to develop your own sleep solutions. The technique is ideal for falling back to sleep in the middle of the night and can also be used to fall asleep initially. The author shares his recommendations for activities and life styles that promote or inhibit sleep. You don't need special training or equipment to personalize this proven technique, but creativity, a willingness to experiment and an active imagination are very helpful. It's so simple, you probably won't believe it until you try it.
Because sound sleep promotes dreaming, the book also guides readers to understand how they can profit from their dreams. An expert in the psychology of dreaming describes why we dream, how to access our dreams and how to interpret our dreams in ways that lead to creative solutions for our waking life.
The information and opinions contained in this book are intended only for informational purposes and is derived from experiential data and other sources believed to be reliable.  It has not been scientifically evaluated and should not be considered a proven medical solution.
Book Links
Website
Facebook
Twitter
On Amazon
More Great Reads: