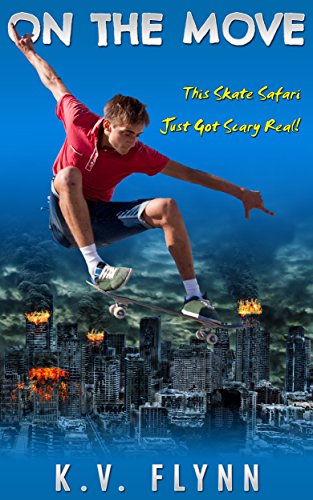 On The Move
Seven middle school kids, living in Surfside, CA, are best skateboard buddies. When the oldest of the gang, Justice, gets permission to take the bus down to the city, the whole posse decides to join him. They're supposed to be just skating around their high school then studying for finals, but if they're back in time, no one will know. It is a sweet trip full of laughs and tricks until Justice crashes on a 9-stair, crushing his shin and dislocating an arm. The boys are NOT supposed to be 25 miles from home, so they try to smuggle the bleeding buddy back on to the public bus and up to Surfside Urgent Care. But when the bus driver dials 911, their secret is blown. They are almost grounded from 8th Grade Promotion and all the celebrations marking the end of middle school.
The whole town sobers up when Justice goes missing on the eve of exams. The sheriff and counselors come to his home room and lay a rose on his desk; the kids are sure this is one of those "Every 15 Minutes" exercises to scare them all into drink-free driving and a sober prom. But wait: they aren't even in High School yet! They don't have Prom. This must be serious…and it is. Justice's car has been found flipped into the surf at Matador Beach and burned; only his crutch and cast were recovered.
The kids' band, Heart Attack, was slated to perform at promotion. Instead, they play Justice's wake, then organize a paddle out to send his skateboard off to sea. Summer's somber start does have one great light on the horizon, however: PEAK Skate Camp in Visalia. Two perfect weeks of skating and buddies, 24/7.
It is a blast: tricks with the pros, nature hikes that end in a skate launch off into the cool lake, late-night edit sessions and videos, more practice right after breakfast. Perfect—until our narrator, Callum, gets a crazy package at mail call that includes a mysterious note.
The boys are freaking out, not sure who to tell as they go over and over every possible meaning, when suddenly life becomes very complicated. The War that's been brewing between Iran and Israel, then Israel and China, then China and the U.S., has escalated with the summer heat. The boys have seen the reports, heard their nervous parents, huddled with the camp counselors.
But when the War moves home, and major cities all across the country come under attack, the boys don't have their own parents to turn to about what to do next.
A second clue sends them on the road, headed north to meet their Native American buddy Obbie, who seems to have escaped the city with his cousin, Suri. They have a car at least, and maybe some additional information about their families, too. Obbie's dad lives near Spokane, on a reservation—they were headed there for summer break, but now this becomes a possible safe haven where the boys can sort out a world gone crazy while they are on the move.
Book Links
Website
Facebook
Twitter
Tumblr
Amazon Author Page
On Amazon
More Great Reads: