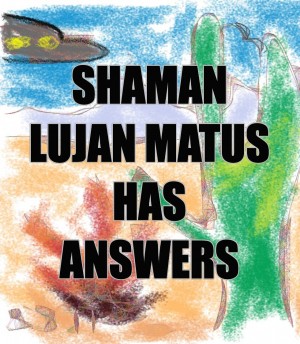 Shaman Lujan Matus Has Answers : H. R. Phillips
Shaman Lujan Matus Has Answers
What happens when a top UFO blogger with an esoteric bent interviews a modern day Shaman? The result is this four star Kindle book – jammed packed with intriguing questions and amazingly thoughtful answers about phenomena such as UFOs, Orbs and entities.
If you were a reader of Carlos Castaneda, like the author H.R. Phillips – this book becomes a near necessity as Shaman Lujan Matus maintains he receives `answers' in his own lucid dreams with direct contact with Socerer Don Juan Matus of the Carlos Castaneda book series. While it would be easy to dismiss such claims, the answers that Phillips beckons literally come through with the stinging realness of when Don Juan spoke in the Castaneda books.
So, begin your journey onto the path of knowledge shared between modern day shamanism and the speculative thought of one of today's top UFO bloggers.
Book Links
Website
Blog
Amazon Author
On Amazon
More Great Reads: