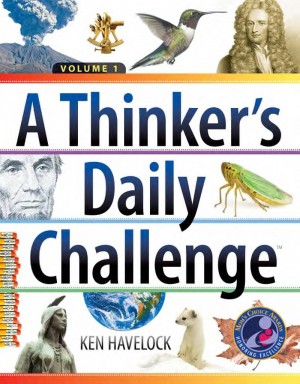 A Thinker's Daily Challenge : Ken Havelock
A Thinker's Daily Challenge : Volume 1
Celebrity endorsed by Alex Trebek, Jeff Foxworthy, Professor Philip Bigler (1998 National Teacher of the Year) and four others! Book is a May 2014 Mom's Choice Awards® recipient, and more recently, it received an "Honorable Mention" in the Cover Design category of the LuckyCinda Book Contest.
Young and old alike love "quiz shows," and this budding educational book series provides a similar experience. VOLUME 1 masters the formula of making "learning fun!" Its inspiration and driving force is the popular old adage, "you learn something new every day."
The volume follows a unique "daily format," it offers four months of daily challenges plus two dozen bonuses, and covers geography, history, and the sciences. It features rebus and word finder puzzles, image identifications (in b/w and color), short stories (intriguing little mysteries in which the reader must determine the final geographic location of one or more characters), questions presented in a variety of formats (multiple choice, fill-in-the-blank, true or false, and simple construction), along with many surprises!
Readers with a Smartphone get an added treat, for if they scan the QR codes contained within the book, that action will reveal beautiful full color images of animals taken by professional wildlife photographers!
Recommended Readership (age 12 through Adult).
More Great Reads: