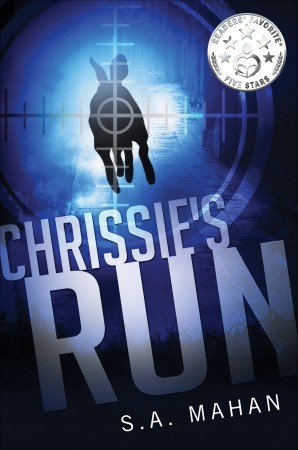 Chrissie's Run : S. A. Mahan
Chrissie's Run
Recent Winner of Reader's Favorite 5-Star Seal with three 5-Star reviews.
Reader's Favorite reviewer Patricia Reding says it best:
"Just sixteen, pregnant, betrayed by boyfriend and family, alone . . . and an outlaw, Chrissie is in big trouble. So opens Chrissie's Run by S.A. Mahan, a story sure to have readers turning pages quickly and furiously.
In the dystopian world of the New Republic, Chrissie does the unthinkable. When ordered to show up for an appointment at which the authorities will abort her child, one they say would be born handicapped, Chrissie runs.
She finds her way to the underground of the city. Vulnerable, in part due to the hefty price upon her head, Chrissie struggles to protect herself and her child.
Enter Moses, a gifted man and a protector, who helps Chrissie on her journey to find the mythical land of Haven. He is followed by Samson, Angel, and others, each of whom is willing to risk death in an effort to protect life.
Meanwhile, Chrissie's pursuers become more plentiful and stronger. How many will be willing to pay with their own lives to protect the single life of an innocent?"
Chrissie's Run is a young adult, dystopian edge-of-your-seat page turner that you will literally not want to put down.  S. A. Mahan explores a future society that embraces full governmental control and social engineering. It is a story of hard choices, and even harder consequences for Chrissie. She hears 'the voice', the voice that tells her that her unborn baby is Daniel.  Daniel in the Lion's Den.
Chrissie makes the hard choice. Will she and Daniel survive?
Book Links
Goodreads
Amazon Author Page
On Amazon
More Great Reads: