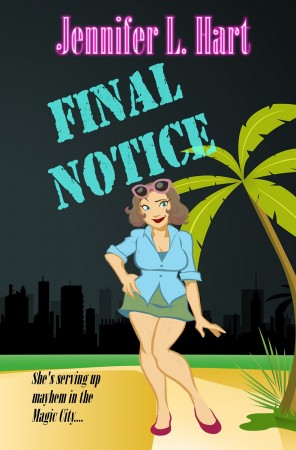 Final Notice : Jennifer L Hart
Final Notice
She's serving up mayhem in the Magic City….
FINAL STRAW
Dishing out bad news is Jackie Parker's job. So when her boss grabs her assets one time too many, she serves him her notice and hopes he chokes on it. There must be a better way for a certified process server to make a living in Miami than working for a lousy lecherous lawyer. Whatever Jackie decides, her number one priority is to spend time with her husband, Luke, preferably without his brother Logan–AKA the Dark Prince.
FINAL WARNING
Despite Logan's objections, Luke asks her to join forces in their own property management team, Damaged Goods. Drawing the line between professional and personal lives proves challenging, especially when Logan serves her an ultimatum–tell Luke the truth about what really happened the night they first met, or he will. Sexual harassment is looking better and better.
FINAL NOTICE
Fester Gomez is three months behind on the rent for his pricey South Beach condo and Damaged Goods is on the job. Either they convince the tenant to pay up or he'll face eviction. The simple task turns deadly when the team discovers Gomez missing and a Jane Doe slowly decomposing in his bathtub. Serving a killer up to justice, wrestling family secrets–it's just another day on the job for Damaged Goods.
Book Links
Amazon Author Page
Twitter
Twitter – Book
On Amazon
More Great Reads: