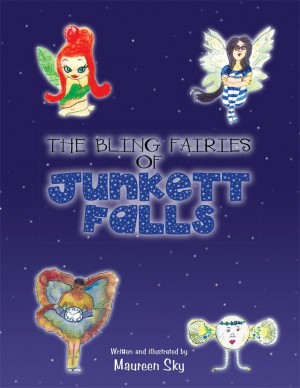 The Bling Fairies of Junkett Falls : Maureen Sky
The Bling Fairies of Junkett Falls
A young teenaged fairy must go through a difficult journey before she can ear her place in the magical world of Maureen Sly's "The Bling Faireis of Junkett Falls." Illustrated with colorful drawings inspired by the author's knowledge of Bakelite jewelry, this book is sure to enthrall readers.
BLING FAIRIES are little creatures that thrive within jewelry boxes. One of them is Velvy, a young teenage fairy preparing to do a "spin" – a coming of age event akin to graduation that is all about honor, respect and accomplishment. Along the way, she encounters some very hard situations, but she does not face them alone, for the others come to her aid to help. The colorful illustrations provide the perfect visual that definitely makes this story come to life.
Humorous and vibrantly written, "The Bling Fairies of Junkett Falls" is no ordinary fantastical tale, for it teaches some very valuable lessons in a brilliantly depicted, unique world. This book is a testament to the notion that people must look for the humor in everything, and that looking at things differently might just provide the kind of clarity needed to thrive in life's springs.
"The Bling Fairies of Junkett Falls" is a fun and memorable read perfect for sharing within the family.
Book Links
Goodreads
Xlibris
Barnes & Noble
On Amazon
More Great Reads: