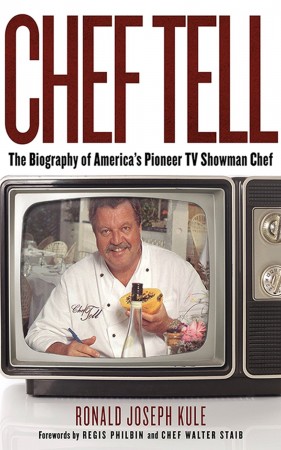 Chef Tell : Ronald Joseph Kule
CHEF TELL The Biography of America's Pioneer TV Showman Chef
Chef Tell's fan base included 40 Million Baby Boomers – far more than Julia Child – and his food always tasted good.
According to TV host Regis Philbin, "Chef Tell started all this television madness about chefs." This book reveals for the first time to his fans and foodies how a young boy, German WW II survivor, came to America and became the nation's most beloved TV celebrity chef in the 1970's and 80's.
For the first time, his ups-and-downs life on-camera and off is shown. Having blazed the trail for all TV chefs to follow in his footsteps, Chef Tell is truly an American culinary icon and legend, whose legacy teaches us that hard work and persistence make dreams come true.
The book includes new Chef Tell recipes and over 70 photos of the Master Chef who signed off his appearances with "I see you!" (Available in hard-cover, eBook and Audiobook formats.)
Book Links
Website
Blog
Facebook
Amazon Author Page
On Amazon
More Great Reads: