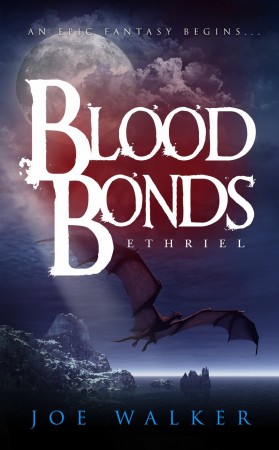 Ethriel: Blood Bonds : Joe Walker

Ethriel: Blood Bonds
Storm clouds gather over the land of Ethriel.
The Dark Lord, Akvandar, has defeated the once mighty Kingdom of Sol and now turns his attention upon the men of the west; a weak and fractured people struggling desperately to repel the advances of the armies spewing forth from the dreaded Spire.
Meanwhile, in the cold north, there is trouble afoot. Goblins march from the Mountain of Iron, ravaging the lands between the Range and the Impassable Peaks; a once peaceful region where the stench of betrayal is pungent and corruption is rife.
Humankind teeters on the edge of existence and the forces of good have only one choice. They must forget past grievances and fight against the evil that plagues their land in a war that will be decided by the sword and the shield.
From the deepest depths to the highest peaks, Blood Bonds will take you on a whirlwind adventure following four unlikely companions who must bind themselves in friendship, overcoming battles, betrayals and grief as they strive to bring the nations of the realm together.
Book Links
Website
Goodreads
On Amazon
More Great Reads: