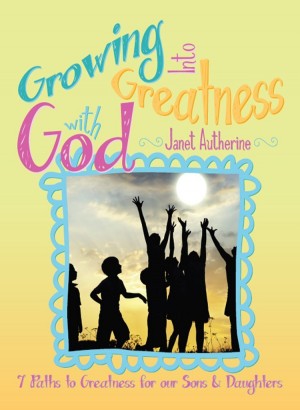 Growing into Greatness with God : Janet Autherine
Growing into Greatness with God: 7 Paths to Greatness for our Sons & Daughters
Growing into Greatness with God gives children the courage to overcome any obstacle. Every child is created in the image of God, and every child carries this amazing gift of greatness inside himself or herself. But children hear mixed messages on a daily basis—about life, about the world, and about themselves.
In Growing into Greatness with God: Seven Paths to Greatness for Our Sons and Daughters, author and mother of three boys Janet Autherine encourages kids to see themselves as unique and amazing—already blessed with what they need to succeed in life and achieve their dreams.
Readers learn how to grow in love, faith, courage, leadership, happiness, gratitude, and confidence through the inspiring stories of Bible heroes. The book ends with a letter that will inspire and empower readers, and questions for study and self-reflection that can be used by parents and teachers to help their children continue on their journey to greatness.
Book Links
Website
Facebook
Twitter
Pinterest
Amazon Author Page
On Amazon
More Great Reads: