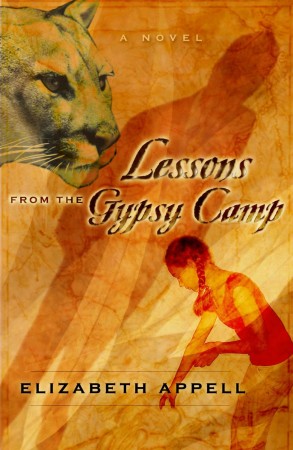 Lessons from the Gypsy Camp : Elizabeth Appell
Lessons from the Gypsy Camp
The year is 1955. Eisenhower is president, the McCarthy hearings are over, and Lolly Candolin has given her father an ultimatum: "Stop drinking or I'll cut my hair." Her father, refusing to have his life controlled by a ten-year-old child, retaliates by tossing Lolly's aged cat, Bo, from a high levee into Cougarville, a gypsy camp just outside town.
Going against everything she's been told, Lolly ventures into the camp on her own and befriends a cast of misfits, including: Tick, a tomboy Lolly's age; Sophia, Tick's mother and gifted healer; and Sam, the unofficial leader of Cougarville.
Lolly and her new friends are soon caught in a maelstrom of murder and intrigue as the county sheriff is shot and killed at a local saloon. All evidence points to Sam, and Lolly's father, the county prosecutor with everything to lose, goes after the case full bore, determined to see Sam convicted and executed.
Things become complicated for Lolly when, during a clandestine mission to warn the Cougarville residents of her father's brutal intentions, she discovers the identity of the true killer, putting into motion a terrible dilemma that no young girl should ever have to face. Revealing her evidence will not only set an innocent man free, but will destroy both her father's career and any chance of winning what she yearns for most: her father's approval.
Book Links
Website
Facebook
Twitter
On Amazon
More Great Reads: