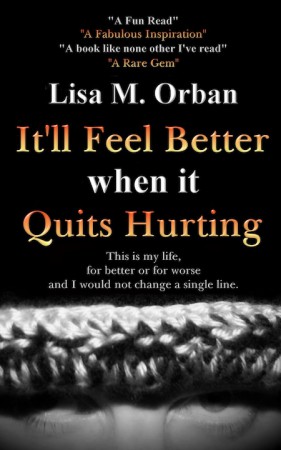 It'll Feel Better When It Quits Hurting : Lisa Orban
It'll Feel Better When It Quits Hurting
Many years ago my friends and I would sit around and play what we called "Jerry Springer: the Home Game". The object of the game was to see how many upcoming shows we qualified for, with the story to support our claim, and whoever had the most at the end of the program won. I was the reigning champion.
This book started off as just a lighthearted collection of anecdotes, stories shared with friends over the years to both the horror and delight of my audience. But as I began to write I realized that the humor of my life comes not from the light moments, but the dark, and without those moments being included much of the humor would be lost without that context.
This book is a bit darker than I initially intended, but I hope that while reading this I can make you smile, even on occasion laugh out loud at the ridiculousness of the situations I have found myself in over the years, and that you, like me, can find the humor in all the dark places.
I do not believe I have any wisdom to share in this telling, nor is it even an inspirational tale of achievement by overcoming adversity, it is simply my life that I have survived. For better or for worse, this is the mostly true, fairly accurate, and almost completely factual account of my life.
Some liberties have been taken to protect the somewhat innocent and a few small embellishments were made for the sake of a good story.
Book Links
Website
Facebook
Twitter
Goodreads
Amazon Author Page
On Amazon
More Great Reads: