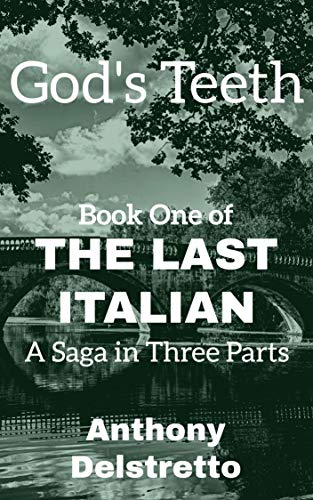 God's Teeth : Anthony Delstretto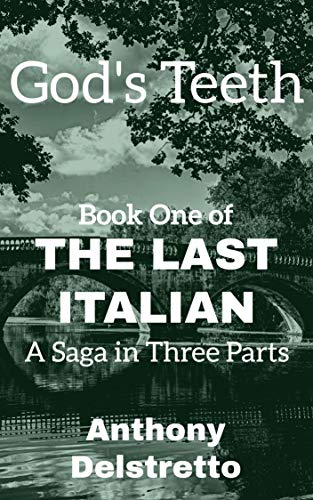 Love, jealousy, murder, vendetta. All in the time of cholera. Then the brigands strike.
Carlo Como goes out fishing one dawn in 1882 on the wide river near his northern Italian village of Castrubello. But this morning Carlo hauls in a very different catch, one that will allow him to marry his love, Tonia, a worker in the town's dismal silk mill. But Carlo's discovery unleashes a chain of fate-driven events that will define himself and his family for decades to come.
Tonia's brother Ettore is determined to advance on his own merits. With a hot-headed partner, he travels south to carve The King's Road through the mountains of Campania. Ettore soon finds himself fighting an impossible deadline and a band of cut-throat brigands who swear to violently halt the brazen intruder threatening their mountain lair.
ABOUT THE SERIES
"The Last Italian, A Saga in Three Parts" begins in 1882 Italy and spans more than six decades of personal, social, and political tumult. Three generations of the Como and Vacci families face rapacious landowners, deadly epidemics, harrowing warfare, perilous immigration, and Fascist brutality during the Kingdom of Italy's final sixty-three turbulent years. Throughout, as the characters struggle to balance their commitments to love, loyalty, and honor against the implacable demands of survival, Fate forever stands ready to abruptly intervene.
Book 2: Fate's Restless Feet (1911-1913) – also on Whizbuzz Books.
They were told Tripoli would be a quick and glorious colonial conquest. War to the knife in a cactus labyrinth awaited.
Book 3: Death to the Wolf (1942-1945)
Pitiless winter descends on Mussolini's Italy. The family, divided like Italia itself, stands at the brink.
L'edizione in lingua italiana di questo libro è disponibile utilizzando il seguente link: books2read.com/u/49lPBM
More Great Reads: