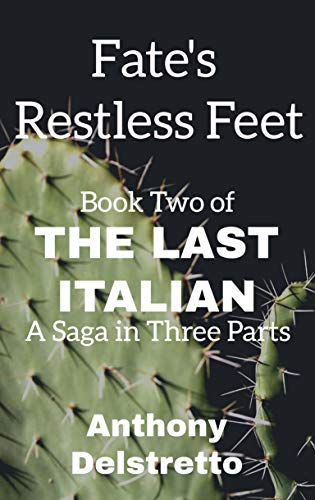 Fate's Restless Feet : Anthony Delstretto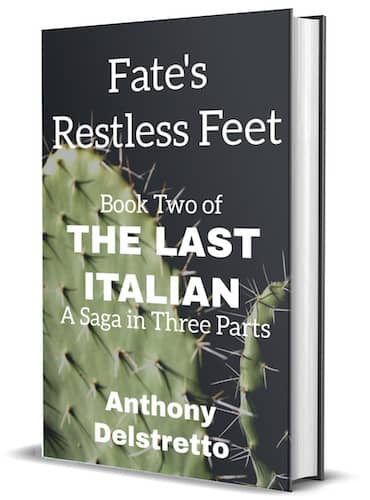 It was expected to be a quick and glorious colonial conquest. War to the knife in a cactus labyrinth awaited.
In 1911, brothers Gianni and Renzo Como land with an elite Bersaglieri regiment in Tripoli, Libya, as the Kingdom of Italy declares war on the Turkish Ottoman Empire. Renzo risks everything to live up to his duty to protect his brother during a treacherous battle fraught with confusion, courage, and cruelty.
Despite dire warnings, Angelina Scrivatti undertakes the perilous journey to America to claim a promise of marriage. She arrives at a Michigan mining town to discover the man she loves in the grip of alcoholic despair. They become swept up in a storm of ethnic violence on a fateful Christmas Eve — with one final chance for personal redemption.
ABOUT THE SERIES
"The Last Italian, A Saga in Three Parts" begins in 1882 Italy and spans more than six decades of personal, social, and political tumult. Three generations of the Como and Vacci families face rapacious landowners, deadly epidemics, harrowing warfare, perilous immigration, and Fascist brutality during the Kingdom of Italy's final sixty-three years. Throughout, as the characters struggle to balance their commitments to love, loyalty, and honor against the implacable demands of survival, Fate forever stands ready to abruptly intervene.
Besides Volume II, "Fate's Restless Feet", the other books in the series include:
BOOK 1: GOD'S TEETH (Italy 1882) – also on Whizbuzz Books.
Love, jealousy, murder, vendetta. All in the time of cholera. Then the brigands strike!
BOOK 3: DEATH TO THE WOLF (Italy, Russia 1942)
Pitiless winter descends on Mussolini's wartorn Italy. The family, divided like Italia itself, stands on the precipice.
L'edizione in lingua italiana di questo libro, I PASSI IRREQUIETI, è disponibile utilizzando il seguente link: https://books2read.com/u/3GAYja
Book Links
Website
Amazon Author Page
On Amazon
More Great Reads: