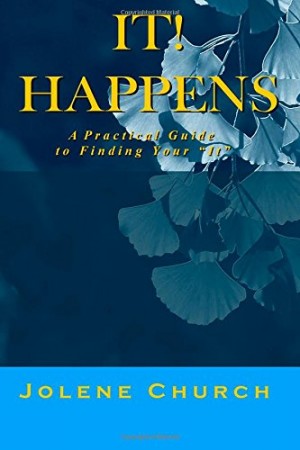 It! Happens : Jolene Church :
Why do some people have a knack at turning everything they touch into gold? Yet others seem to have one bad break after another? Such is life, such is business. Some people just seem to have 'it'. Or do we all have 'it', but don't know 'it'? What exactly is 'it'? There is a driving force inside all of us that we simply need to tap into.
How do you find your inner source of excellence or even recognize 'it'? Jolene's professional expertise in the area of organizational optimization helps her translate how individuals can optimize themselves, transforming their career, their business, relationships, and community through a down-to-earth and relatable, conversational style.
Jolene likes to refer to this as "breaking 'it' down Barney style." This inspirational and motivational read will have you saying, I have 'it'! Full of inspirational and motivational anecdotes, this book will enable you to find what 'it' is for you personally, helping you translate your 'it' into personal success and satisfaction.
Searching for a clearer grasp of what 'it' is for you? You'll love this book! Jolene offers a wealth of provocative ideas, entertaining stories, and suggestions on how you can align your inner 'it', sharpen your focus, and find your true path to living a fulfilled life! -Dr. Ennette Morton, Speaker and Organizational Leadership Consultant
"What does it mean to have it? From personal abilities, both physical and mental, to one's passion in life – Jolene does an excellent job identifying how it is in all of us. A wildly entertaining read, she takes us through her own personal stories of finding her it that I believe a lot of people can relate to. This book will help you find what you felt has been missing; and prove that you've always had it!" -Georg de Gorostiza, Co-Founder & CEO of Engage Marketing LLC and Click-A-Brick Toys LLC
Book Links
On Amazon
More Great Reads: