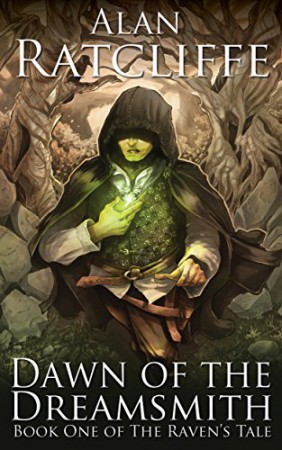 Dawn of the Dreamsmith : Alan Ratcliffe

Dawn of the Dreamsmith : Book One of The Raven's Tale
Cole is a young man with a unique power – the ability to venture into the dreams of others. Nobody can tell him how this gift came to him, or why. All he knows is that it seems inextricably linked to the mysterious green crystals worn by the Order of Enlightenment and its followers.
When a surprise attack on his home forces him to flee, he embarks on a perilous journey across an empire to free the realm from the grip of an insidious cult seeking to enslave its people.
As he travels through the untamed north pursued by a deadly adversary, he forms an uneasy alliance with Raven, an enigmatic stranger pursuing a decades-old quest for vengeance. Together, their path takes them through the darkest and most dangerous corners of the land, where even the bravest Legion soldiers fear to tread.
Meanwhile, the Empire, still bearing the scars of civil uprising, prepares to make war against a mysterious threat far to the south. Ignoring his own misgivings and murmurs of a fresh northern rebellion, Prince Adelmar, Commander of the Imperial Legion and heir to the throne, leads the invasion and faces the only foe he cannot outmanoeuvre: his own family.
Dawn of the Dreamsmith is the first part of a new epic fantasy trilogy. The story will continue in 2017 in Shadows of the Dreamspire, the second book of The Raven's Tale.
Book Links
Website
Twitter
Facebook
Goodreads
Amazon Author Page
On Amazon UK
On Amazon
More Great Reads: