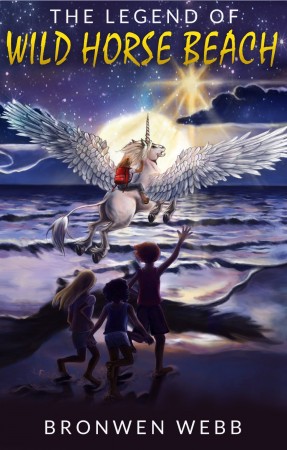 The Legend of Wild Horse Beach : Bronwen Webb
What is the legend that Millie, Kate and Tom discover at Wild Horse Beach?
Millie's older sister, Lucinda, who is seen as a pest by the younger children, disappears from Wild Horse Beach in mysterious circumstances which reveal the true identity of the wild horses that give the beach its name.
After learning that another child, Adam, disappeared from Wild Horse Beach in similar circumstances three years before, Millie, Kate and Tom decide to try to save Lucinda and Adam and travel through a magic gateway into a world where unicorns and dragons battle terrifying enemies.
The children soon discover there is no way back to the human world without permission from the unicorn king, but that permission has a price that must be paid. The dragon, Zebedia, grieving and unpredictable, joins the desperate children in their quest but has his own agenda which adds to the danger. Will the children overcome their differences in order to survive in a hostile world and return home?
The Legend of Wild Horse Beach is a coming-of-age fantasy adventure for middle grade readers.
What readers say:
"If you love the Percy Jackson books and the beloved Narnia series you'll want to read this book. I bought this book with high hopes. I definitely was not disappointed.This is a mesmerizing read that quickly drew me in.The details are rich throughout this story. For example, I could smell and feel the moisture on the trees by the waterfall.The author paused us at the end with a nice snippet of the next book – which is already on my must read list."
"I like this type of story as it encourages young readers to become engrossed in a quality read.The author takes typical fantasy reads up a notch as she adds in children with integrity and a sense of doing what is right. The unicorns and dragons are nicely created and the story springs to life quickly. While this book is written for children, it is also a book that adults will enjoy reading."
"This is definitely a quirky fantasy tale, very different from the tale of elves, ogres and goblins. Yes, it's a very traditional tale, with dragons, witches, and unicorns, but magic flows very differently here."
" The book has unicorn & dragons in a way I have never read about them before. I would recommend it for young readers."
"Mystery, magic, unicorns, everything needed to pull a youngster into the story. I will pass it on to my grandchildren."
"Mystery, action and suspense. Mix that with adventurous kids who have great values, brave unicorns, the dragons' beautiful love story and a dangerous quest and this exciting and different adventure fantasy is terrific for kids 8+. I highly recommend it."
Book Links
Facebook
Amazon Author Page
On Amazon
More Great Reads: