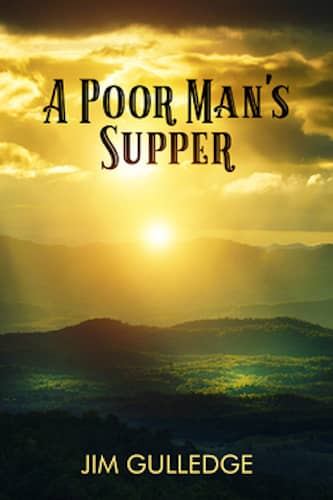 A Poor Man's Supper : Jim Gulledge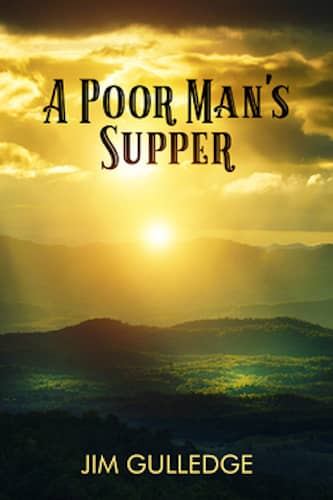 Jim Gulledge's book, A Poor Man's Supper, is set in the Asheville, North Carolina area and is inspired by experiences from his family history.
North Carolina writer Ruth Moose has said of A Poor Man's Supper that it …"reads like a ballad and …could be set to music".
Dr. Gulledge acknowledges the influence of his own European ancestors on his work. "Our folk culture in western North Carolina was and continues to be heavily influenced by waves of English and Scottish immigrants who brought their songs and stories with them from Great Britain. The majority of my mother's people immigrated from Scotland to Pennsylvania and then down the Great Wagon Road to North Carolina. My dad's ancestors came from England to Jamestown and then on to the Carolinas. I tried to imagine one of their old folk songs coming to life in prose."
The main character of the tale is a young woman named Vancie Keller who is trying to survive on her mother's failing farm near the mountain village of Tugaloo when her life is forever altered by the arrival of two very different men: Josiah Buckland and Jagger Hill. One, she will love, the other she will marry.
Orphaned as a teen, Josiah Buckland came down from the rugged mountains of North Carolina to try to find work and possibly a home. He didn't expect to find the love of his life. Jagger Hill has secrets of his own. When he comes to town and starts to rebuild, nobody knows him for who he really is, but people will soon learn. Some secrets cannot be kept forever.
Though part romance, A Poor Man's Supper is also at a deeper level a morality tale about the tremendous consequences of human choices and actions sprinkled with revelry in the natural world, faith, song and myth.
This is Jim Gulledge's first book and was recently selected for inclusion in the North Carolina Collection at the University of North Carolina , Chapel Hill and the W.L. Eury Appalachian Collection at Appalachian State University.
Book Links
Website
Goodreads
Deer Hawk Publications
Amazon Author Page
On Amazon
More Great Reads: