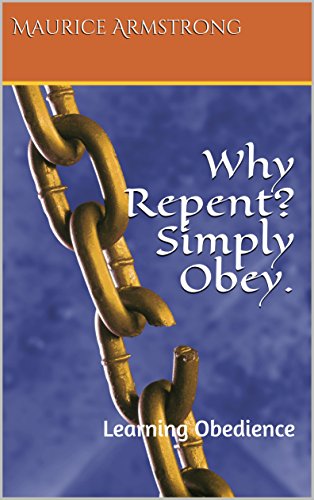 Why Repent? Simply Obey : Maurice Armstrong
Why Repent? Simply Obey

God is not a man that he should lie.
Therefore, whenever he speaks, obedience is the only expected response.
And, if we choose to obey…there'll be no need to repent.
Born in sin and shaped in iniquity, we are by nature prone to all unrighteousness. But God, who is rich in mercies and because of his everlasting love, provides repentance as the doorway through which, we can begin a new life–old things are passed away and behold all things become new.
Jesus said, "Marvel not when I say to you, you must be born again. (John 3:7, KJV)
Being Born-Again, His Spirit abides in our hearts. As we continue to yield ourselves to Him–He empowers us to live in obedience to the word of God.
A life of continuous repentance may seem saintly, but is indeed slavery–to sin.
Why keep repenting? When we can instead learn obedience, for when we're obedient there's no need for repentance.
Come…. Let's go on unto perfection. (Hebrews 6:1).
Book Links
Linkedin
Amazon Author Page
On Amazon
More Great Reads: