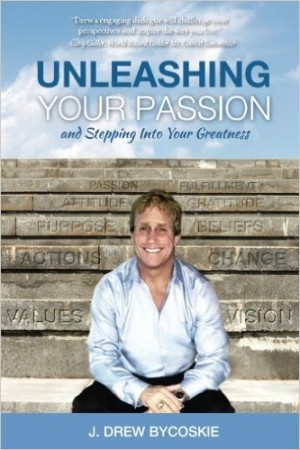 Unleashing Your Passion : J. Drew Bycoskie
Unleashing Your Passion
Finding your passion and purpose in life is like discovering your personal road map to an enriched and complete life. When you have identified your passion, your world will turn around in an enthusiastic, focused and fulfilled way. Acclaimed author and passion enthusiast J. Drew Bycoskie has written an inspirational guidebook that will challenge your perspectives and inspire the way you live. Make the courageous decision to step outside your comfort zone and invest your heart into unleashing your passion as you embark upon a life journey of completeness.
Unleashing Your Passion will provide you the impetus to identify the barriers that are impeding you from stepping into your greatness while providing you the inspiration to overcome and move past self-sabotaging limiting beliefs and actions. This book will help you understand the following:
1) What it means to have passion in your life
2) Identifying obstacles that stifle you from pursuing life's passion and purpose. (i.e., anger, limiting beliefs, attitudes)
3) Developing strategies to manage and conquer limiting beliefs, negative emotions and unproductive actions
4) Understanding how to incorporate subtle mind-shifts and clear thoughts into daily routines.
5) Create a vision of your ideal life and setting goals to get you there.
In addition, this insightful book will share the remarkable and brave stories of five individuals that have made the sacrifice and commitment to pursue their passion in life. Relax, sit back and enjoy this journey.
Author J. Drew Bycoskie has published a series of uplifting books entitled, "Living a Fulfilled Life." These inspirational guidebooks will help challenge your perspectives and inspire the way you live in an incredibly motivational and insightful way.
As a former collegiate football coach, father, professional and acclaimed author, Drew has been inspiring and motivating individuals and organizations to maximize their potential. Having a clear vision, a firm action plans and the desire to create change in your life are the key and critical components relating to pursuing a life of passion and fulfillment. Drew's life experience playing on two National Championship football teams and working with two Fortune 100 Companies have fueled his passion for helping others to achieve their individual greatness.
More Great Reads: