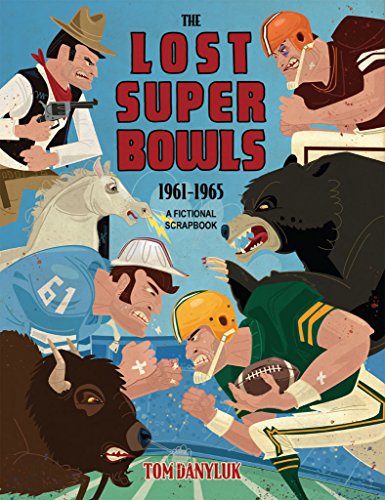 The Lost Super Bowls : Tom Danyluk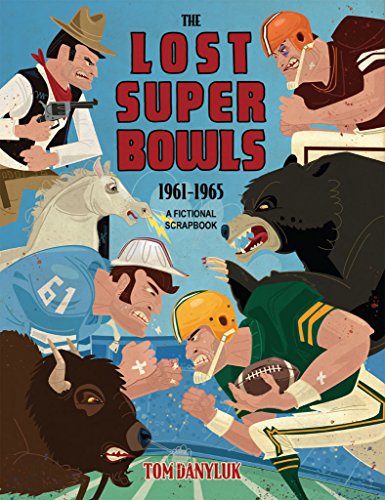 1961 to 1965 – A Fictional Scrapbook
The Lost Super Bowls is historical fiction – a scrapbook of fictional articles by imaginary sportswriters from make-believe newspapers, all dressed in archival photography and original color artwork.
It's fantasy football wrapped in a history lesson, the buildup and recap of five AFL-NFL "World Championship" games – from 1961 to 1965 – that were never played. Only the names are real…legendary figures, like Lombardi and Stram, Alworth and Adderley, Ditka and Kemp. Historic venues like Green Bay's City Field, the Dallas Cotton Bowl and Pasadena's Rose Bowl.
It's the winter of 1961. Joe Foss, commissioner of the wobbly American Football League, issues the first of his many telegrams and missives to the rival NFL, requesting that the two leagues create an annual "World Championship Football Game." Foss' gang is struggling and needs a boost.
The NFL, however, led by Pete Rozelle, scoffs at the invitation, thus triggering a war between the leagues that would carry deep into the spring of 1966. A merger was finally announced that June. The first Super Bowl game – Kansas City versus Green Bay – wouldn't be played until January of '67.
But what if, by some shocking stroke of prescience, the NFL had agreed to Foss' initial proposal? Simply put, football's Super Bowl era would have begun five years earlier – in January, 1962. There'd be five more title games now cemented in the record books. There'd be five more of those fine Sabol highlight reels in the archives of NFL Films. There'd be five more chapters of pro football history that author Tom Danyluk calls The Lost Super Bowls.
"Everything you can imagine is real," says the artist, and The Lost Super Bowls presents football history in that very way, a time machine back to those early AFL-NFL battles that never were.
It's George Blanda and the Houston Oilers trying to bomb their way past the '61 Packers, Vince Lombardi's first champion.
It's Sid Gillman unleashing his lightning bolt strikes on the Monsters of the Midway.
It's the mighty Jim Brown slamming horns with Sestak and Saimes and the rugged Bills' defense of 1964.
It's the sports pages of The Lost Super Bowls.
Sit back and read all about it!
Book Links
Twitter
Amazon Author Page
On Amazon
More Great Reads: