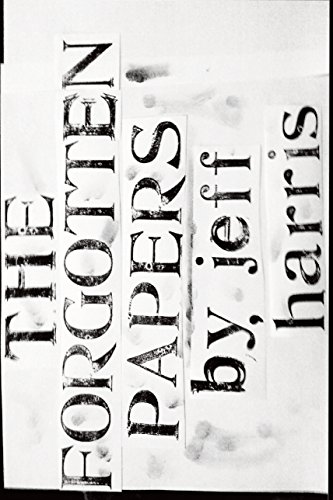 The Forgotten Papers : Jeff Harris
The Forgotten Papers
This is a long-lost masterpiece of the East Village, New York. It goes way back. It should not be confused with a regular book.
There is no plot or running narrative, but even so, it might be the greatest book ever written about the insane asylum that is New York City. It crosses genre lines of fiction, non-fiction and poetry, and is redemptive in some way that is nearly inexplicable.
Wash your troubles away with "The Forgotten Papers" and get one good laugh per page—guaranteed—to boot!
Review by Stewart Allen, author of "The Devil's Cup":
I'm giving this five stars because I love Henry Miller's Tropic of Cancer, which is the closest book i can think of to compare this to. Like Tropic, Forgotten is a loosely bound collection of musings and stories from the writer's ramshackle life; some of it very funny, some sad, some filthy. It's a kind of New York equivalent to Miller's Paris, and as such less glamorous (perhaps) and darker but Harris's humor and whimsical touch lighten this up.
Review By Faridah Nassozi :
The Forgotten Papers by Jeff Harris (from The Lefty Jones Band) is a collection of a little bit of everything – short stories, poems, and articles, all beautifully written. Some read like riddles, some make political statements, some tackle social issues, some are simply inspirational while others are just hilarious. You will go from a hilarious story about a canceled wedding to one about the need for the GOP to work on its public perception, to a poem, and then to another totally random story. The writings are all very brief with many of them less than half a page long, and yet each tells a complete story with actual depth and lots of humor. You will find in there different genres and different topics, but it all blends into an exciting and very captivating read. The beauty of this book is that you can put it down any time and pick it up whenever. You can even start reading from almost any page since chances are that whatever page you land on, you will be starting a new story.
More Great Reads: