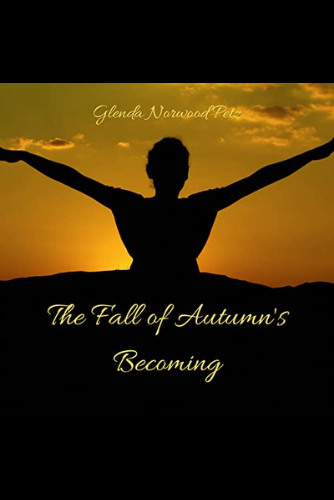 The Fall of Autumn's Becoming : Glenda Norwood Petz
On October 18, 2013, Autumn Marie Jensen disappeared from Gunney's on Route 93 in Kingman, Arizona.
On October 18, 2024, she returned with no knowledge of her eleven-year absence, thrusting her into a life where nothing and no one is as she remembers.
Her husband, Simon, is remarried, her two children are adults, and her best friend can't be located.
Where was she for all those years, and why can't she remember what happened to her?
Is the Autumn who returned to Kingman the same woman who vanished? The new version of her possesses an uncanny ability that the old version didn't.
The power to heal the sick and injured.
Her unexpected return wasn't happenstance. She came back to fulfill a specific mission, one that will ultimately lead to her having to make the most important decision of her life.
Making a choice between who lives, and who dies?
Book Links

Website
Twitter
Instagram
Facebook
Amazon Author Page
On Amazon
More Great Reads: