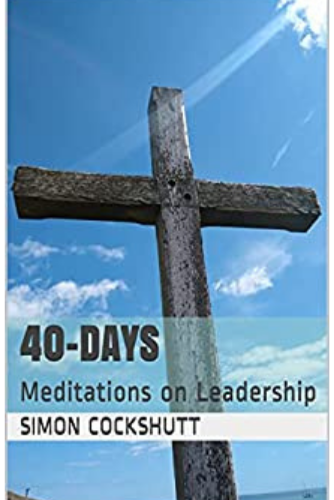 40-Days: Meditations on Leadership : Simon Cockshutt
Jesus's 33 years on earth have had so much impact on humanity that he's still remembered and revered two thousand years after his death, making him one of the most impactful leaders in history.
Therefore, leaders in today's world have a lot to learn from him. Simon Cockshutt's 40-Days looks into Jesus's time on earth and the valuable lessons about leadership that can be learned from him.
The book also employs other biblical scriptures and personal examples to build the 40 topics it contains. The first lesson, which emphasizes the importance of enthusiasm and hope in starting a project, is picked from Jesus's 40 days on the mountain. Additionally, Simon Cockshutt encourages leaders to pray, give, serve, meditate, and ask for God's guidance. His book also warns to watch out for traits like anger, pride, spiritual jealousy, and more.
Like looking at the Bible with a new set of eyes, 40-Days showed me some profound thoughts regarding various scriptures. Simon Cockshutt supplies readers with elaborate and fully loaded content—a combination of lessons from the author's personal experiences, questions to reflect on, instructions to help practice the ideas, and several references from the Bible.
One of the many important things I picked up from the book is that great wisdom, patience, and discernment (among other things) are important in resolving conflicts. Simon Cockshutt's direct and concise ideas about leadership are like seeds planted to effect an all-around positive change.
I recommend 40-Days to leaders and parents, spouses, dreamers, employees, believers, and readers who seek spiritual growth as the book encourages developing humane values and reminds readers of the need to be close to God in addition to discussing good leadership qualities.
[Reviewed by Foluso Falaye for Readers' Favorite]
Social Links
Website
Goodreads
Amazon Author Page
On Amazon
More Great Reads: