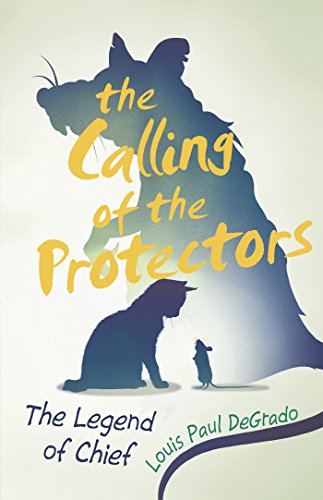 The Calling of the Protectors, The Legend of Chief : Louis Paul DeGrado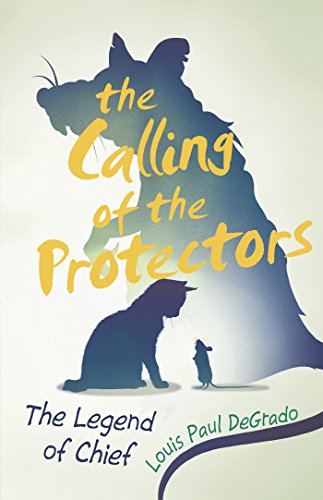 When a small fluffy cat teams up with a canary, a cockatoo, and a fancy mouse to stand up to a villainous, hoodlum rat, a hero is born!
Chief is a Protector, a cat that has the calling to protect humans against vermin and evil. Nicknamed, The Bronx Bruiser, he and his owner, Sam, are called upon to move to a high-rise complex that has gone green and uses cats, not poisons, to drive out the rodents.
Unlike Chief, his daughter is born a runt and is given the name "Mouse" because of her size. She struggles in her father's large world to live up to his reputation. She adapts well by realizing she cannot approach her problems with brute strength but through alliances. Her allies include Ladie, an advice-giving canary, Carl, an escaped Cockatoo who hangs out with pigeons, and Little Foot, a small fancy mouse.
When a group of hoodlum rats led by a deviant lab rat named Bragar break the truce between the cats and the rats, a battle for the apartment complex ensues. Faced with losing her home and all her father has fought for, Mouse summons her courage and rises to the occasion to stand up to Bragar.
Will Mouse succeed? Can she convince Wilber to help her? Will the lazy rats Slim and Slouch accomplish anything?
Join in the mighty adventure and find out what happens when a small amount of courage has a giant impact!
"DeGrado hits a home-run with this empowering read. Recommended for home and school libraries, The Calling of the Protectors, the Legend of Chief earns the Literary Classics Seal of Approval."
"With its sweet kitten heroine and environmental themes, this novel will resonate with readers of all ages." -Foreword Reviews.
"But despite its seriousness, the novel is also charming, fun, and entertaining. Its many wonderful songs (alley cats sing the blues, for example) absolutely beg for transformation into an animated movie. The satisfying ending will have readers cheering out loud—and waiting hopefully for the next book in this series. An exciting story for animal lovers about courage, resilience, and working together. –Kirkus Reviews
The 13th Month and 13 Days by Louis Paul DeGrado are also on Whizbuzz Books
Book Links
Website
Facebook
YouTube
Amazon Author Page
On Amazon
More Great Reads: