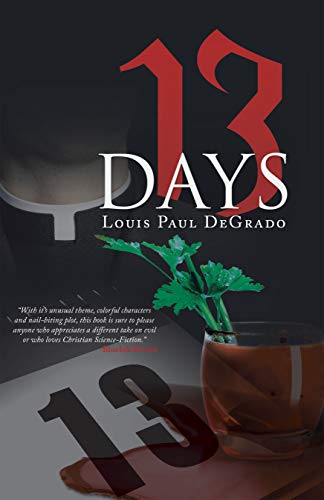 13 Days : Louis Paul DeGrado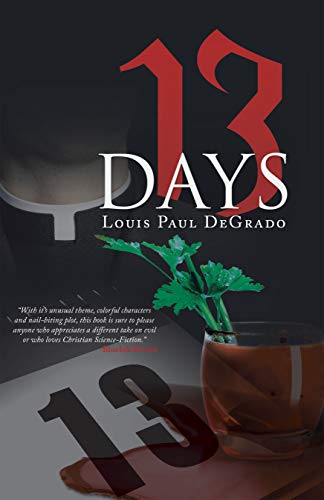 13 Days: In this sequel to The 13th Month, 2015 Finalist Foreword Review Book of Year Contest, forces of good and evil battle for power. Samar Hamish is an archeologist obsessed with confirming his faith by digging up proof of historical events. He is warned in a dream that he has 13 Days to prevent the Shadows, parasitic creatures waiting inside moments of time that warp reality and influence their hosts. The countdown begins. He seeks out a team made up of a priest, shaman, psychiatrist and a college professor, who have been waging a covert battle against the creatures.
Once banished into another dimension, the Shadows are fighting to take control. A secret plan to send soldiers through a portal to combat the Shadows in their dimension is in jeopardy and may backfire allowing the creatures to enter into the world of humans. With a limited number of days to react, the team must find a way to stop the plan. First, they must convince a council representing the world's religions to delay the soldiers. They must also confront the demons and tragedies of the past, and learn to trust each other. Can the team find a way to stop the force that feeds on our own ill-intentions and insecurities or is it too late? What sacrifice must be made to turn back the tide and close the gates of Hell?
"In his page-turning Christian-themed novel, The 13th Month, Louis Paul DeGrado offers a fresh take on the theme of demonic powers among us. With its unusual theme, colorful characters and nail-biting plot, this book is sure to please anyone who appreciates a different take on evil or who loves Christian science fiction." -Blue Ink Press
The 13th Month and The Calling of the Protectors, The Legend of Chief by Louis Paul DeGrado is also on Whizbuzz Books
Book Links
Website
Facebook
YouTube
Amazon Author Page
On Amazon
More Great Reads: