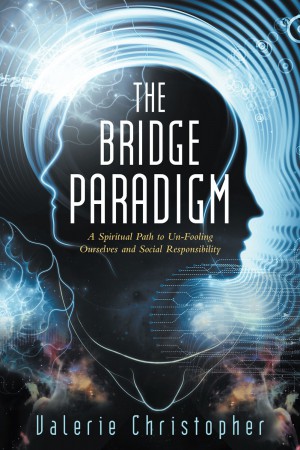 The Bridge Paradigm : Valerie Christopher
The Bridge Paradigm: A Spiritual Path to Un-Fooling Ourselves and Social Responsibility
For as far back as author and consultant Valerie Christopher can remember, the efforts presented by individuals who inspire and empower others as a result of their goal to improve unfavorable, unsatisfactory or unfair conditions by virtue of their community, business, education and environmental involvement, has deeply uplifted her.
"Recognizing the majority of these people (of any age) never expect to be noticed intensifies my gratitude," says Christopher. "People see something that they know they have the power to change or improve upon and they choose to do something about it. Sometimes they do it alone.  And sometimes it takes a group or their community. Not only are our proactive efforts self-fortifying, they embolden others. That is how positive change takes place and carries on." In The Bridge Paradigm: A Spiritual Path to Un-Fooling Ourselves and Social Responsibility, author Valerie Christopher thoughtfully puts forth steps towards self-examination so that we are better poised to be effective agents of change in a manner that maintains its viability.
In addition, she describes various scenarios, and countless insidious circumstances and state of affairs that are too often overlooked or discounted. "We see so many things right before our eyes and walk around or past them because they have become part of the everyday landscape. Some people just chalk it up as normal or common," Christopher explains. In her book she discusses why it is essential for us to determine what kinds of common things are hurting us, and why they should not be considered normal.  We have heard the saying: "It takes a village to raise a child." It takes a community to remind us what we learned from our villages.
Drawing from her own personal experiences as well as cultural and societal influences and confluences, Valerie Christopher takes you on a quest to expand your consciousness and enhance your accountability through the psychological and developmental minefields we all must traverse and master.
Our mental and moral distortions are the result of far too many overlooked or dismissed attitudes, dispositions, and actions. Within these pages, Christopher shares an enlightened approach to resolving the complex challenges we face, both as individuals and as members of the larger human community. She also addresses the compelling and crucial distinctions between what we accept and what we can change. A favorable shift of the core societal archetype is possible, and she explains how we can start the long, healing journey back to accountability and community together.
The Bridge Paradigm exposes the infrastructural conditioning that produces and sustains these errors, and goes on to explain proactive corrective measures. Rather than a quick fix, Christopher offers a thoughtfully constructed means to a deep, evolutionary transformation. Sustainable social responsibility and full accountability on a fair playing field are within our reach. A seismic, life-stirring force for social rebirth, The Bridge Paradigm: A Spiritual Path to Un-Fooling Ourselves and Social Responsibility will resonate with anyone who wishes to play a part in healing what hurts us as a society—reconstructing our cultural perspective and achieving pervasive affective and cognitive transformation.
Book Links
On Amazon
More Great Reads: