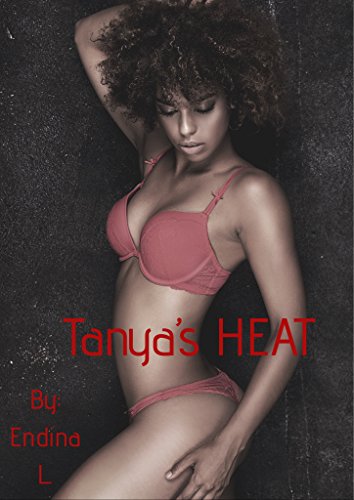 Tanya's Heat : Endina L Ash
Tanya's Heat
Tanya's HEAT is the first in a planned series of African American erotic short stories and novels about women who desire a deeper level of sexual satisfaction. These women have no hesitation in their pursuit of a deeper level of sexual satisfaction. Some are on a journey to satisfy their sexual curiosity while others seek to push themselves past their current sexual limits. Their backgrounds may be different, as well as their methods, but they are all committed to the same goal; uninhibited sexual pleasure.
These stories range from the raw to the sophisticated with Tanya's HEAT definitely falling in the raw category.
Tanya is a strong woman who got out of the "hood" but maintains her street sense and swagger. She wants more out of life and to her, that means more out of sex.
She's grown tired of wasting away in a boring relationship with Scott; an uptight advertising executive whose own inhibitions leave him clueless when it comes to pleasing her in the bedroom. Out of frustration, she creates a personal sex bucket list that she believes will help her fulfill her deepest desires. To complete this list, Tanya knows that she will need a partner who is as willing as she is, which means cutting Scott out of the picture.
During a break in her relationship with Scott, she meets the handsome Jordan who seems more than capable of handling her list and her as well. Tanya makes it clear from the start that their relationship is casual but during, their first evening together, Jordan ignites a sexual fire in Tanya that turns her world upside down. She learns quickly that he is a highly skilled lover that gives her more than she could have imagined before she even gets to her list.
She shares the details of her new casual relationship with her sister Vonny who is a sexual freak with knowledge and appetites that exceed her own. Vonny offers her advice on how best to handle Jordan and more importantly, how to keep him. This proves difficult for Tanya with Scott still in the picture and things become even more complicated when she encounters Jordan's "new friend" Whitney who has her own plans for Jordan. This makes Tanya jealous and she is forced to confront her true feelings about Jordan or risk losing him setting up an explosive confrontation with both Scott and Whitney.
A long talk with Vonny, a trip to the Caribbean, and the revelation of a long-kept secret help Tanya realize what she truly wants and how she's going to get it.
More Great Reads: