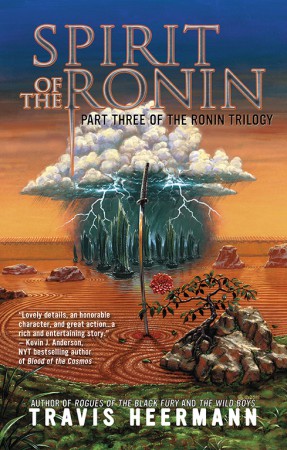 Spirit of the Ronin : Travis Heermann
Spirit of the Ronin
A CLASH OF HONOR, LOVE, AND AMBITION
In thirteenth-century Japan, the ronin Ken'ishi's fondest wish has been granted—he has found service with a powerful samurai lord.
But the underworld crime boss known as Green Tiger lurks in the shadows of Lord Tsunetomo's retinue, and Ken'ishi's honor is tested when learns his new master is married to Kazuko, the only woman he has ever loved. His unknown lineage holds dangerous secrets that could destroy him, and his sword, the magical relic called Silver Crane, holds the key to his past…and his future.
With enemies, temptation, and strife assailing him on all sides, Ken'ishi's very soul falls into jeopardy—even as Khubilai Khan's Mongol hordes plot their next attack.
Can Ken'ishi defeat Green Tiger, defend his homeland from the barbarian invaders, and remain true to his heart, his lord, and his honor?
If you love romance, intrigue and action on an epic scale, don't miss this stunning climax to the Ronin Trilogy.
"If you watch Japanese movies or read Japanese literature, three of the most powerful forces in their culture are loyalty, duty and love. The way Heermann pits these forces against one another in the minds of the protagonists is masterful…. In Heermann's Japan, the spirits and gods interact with the world on a daily basis, making for a 'magic system' rarely seen in literature. If you want to read something with a Japanese flavor both accessible and unique, Spirit of the Ronin is as good as you will find…. My only regret was that the story ended." – New Myths
"When you actively watch out for new writers with potential, every so often you're pleasantly surprised by one who has simply Got It, whose work is ready to push up to the next level. Travis Heermann has simply Got It." – James A. Owen, author of Here, There Be Dragons
"Lovely details, an honorable character, and great action… Travis Heermann's Spirit of the Ronin is a rich and entertaining story." – Kevin J. Anderson, NYT bestselling author of Blood of the Cosmos
Book Links
Website
Blog
Facebook
Twitter
Goodreads
Amazon Author Page
On Amazon
More Great Reads: