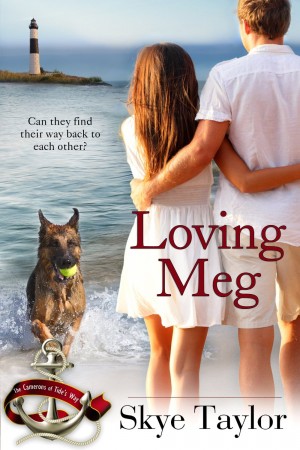 Loving Meg
Book #2 in the Cameron's of Tide's Way Series
Struggling with guilt and post-traumatic stress, can Meg find her way back to Ben and the life they built together before she deployed?
When Meg Cameron joined the Marines to get an education, she never counted on being deployed to a war zone. Now that she's home, both she and her husband Ben are struggling with the toll war, separation and regrets have taken on their marriage. Meg is tormented by guilt over the death of a military dog and the kiss she shared with her commanding officer as he comforted her. Her husband, Ben, is the love of her life, how could he possibly forgive her if he knew the truth?
Ben Cameron is just happy that his brave, beautiful wife is safely home with him and their young sons. Everything seems fine–at first. In bed, he and Meg are perfect together, until the nightmares come and she calls out a name that's not his. She's hurting and he doesn't understand, but he's trying. If only she would talk to him about what's bothering her.
Then there's Kip, a police K-9 who lost his handler and his spirit to a perp with a gun. Ben has been asked to help rehabilitate the grieving K-9.  Can Ben help these two wounded warriors find peace? Can he convince Meg to trust him with her nightmares? As Meg debates returning to active duty, a move that would surely end in another deployment, Ben's frustration and fears climb. What if her pain and confusion take her back into harm's way again, and he lost her forever?
Book Links
Website
Facebook
Twitter
Goodreads
Amazon Author Page
On Amazon
More Great Reads: