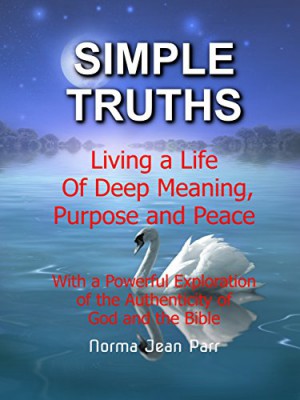 Simple Truths : Norma Jean Parr
Simple Truths: Living a Life of Deep Meaning Purpose and Peace
In this compelling book, Norma shares her journey in identifying concrete Truths that literally direct us on living a life of deep meaning, purpose and peace.
Through personal stories, historical facts and biblical quotes, she shows the way to anyone who seeks Truth in this life and beyond. Who is God?
Who is the Trinity? What is Faith? What is the Purpose in this Life? How do we find Inner Peace – even in difficult times?
Our lives are limited. It is of the utmost importance to discover
Truth for the overall benefit of our health, our perspective on life, and our souls.
More Great Reads: