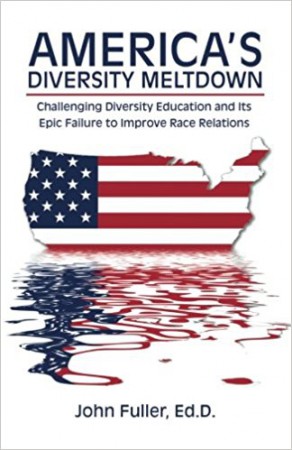 America's Diversity Meltdown : John Fuller
America's Diversity Meltdown: Challenging diversity education and its epic failure to improve race relations
From its inception, diversity curriculum designers disregarded Dr. Martin Luther King's dream. Instead, they created a proverbial white elephant in very uncomfortable classrooms extinguishing the respect and acceptance of instruction and participation from white males.
Themes were meant to target white males for blame, make them feel uncomfortable to get in touch with their feeling, and most importantly, create guilt. In America's Diversity Meltdown, Dr. John Fuller offers straight talk about white male privilege, communities of color, identity politics, affirmative action, and divisive diversity rhetoric. He provides eye- opening insight into diversity education's failures which still contribute to deteriorating race relations.
He reveals the facade of past and current diversity education, and proposes dialogue sessions such as the World Cafe concept for employee and community engagement that will address real issues and understanding versus "us versus them" that permeates our society.
Through the eyes of a dedicated diversity practitioner, America's Diversity Meltdown goes behind the scenes to view the constantly new, but merely repackaged curriculum themes, of -us versus them- still targeting white males for privilege, blame, and unconscious biases, but excludes them from meaningful dialogue. Here, Fuller recommends limiting the Equal Employment Opportunity Commission, affirmative action, Federal Special Emphasis Programs, and extinguishing diversity phrases from our diversity vocabulary such as -we have a long way to go, – -getting it, – and -we need more diversity; words that are heard throughout businesses as a mandatory requirement for employment considerations and training.
More Great Reads: